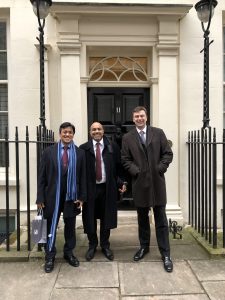 Structured and process managed a £250 million Sharia compliant RMBS transaction for Al Rayan Bank. First securitisation of Sharia compliant mortgages in Europe. First commercial (non-government agency) Sukuk in non-muslim majority country globally.
Achieved AAA / Aaa (S&P/Moody's)
Certificates have full listing on both the Irish and London Stock Exchanges. Transaction structured to replicate cash flows and investment behaviour of UK Prime RMBS and to achieve HQLA eligibility.
Closing Date: February 2018
Period of Mandate – August 2017- February 2018: Included structuring, project scoping and management, attending roadshows, negotiating ratings, reviewing of legal documentation and overview of modelling.
Client Reference:
"Al-Rayan Bank approached Ian when it was at a crossroads on deciding its next step in the capital markets. Ian provided valuable insight on the market, potential and the most optimized route to get our Sukuk out. Once the Bank accepted the option presented, Ian was very instrumental in helping out with the structure, providing the bridge between the Bank's expertise in Islamic Banking, to the requirements of conventional investors and rating agencies, by providing a simple and clear message on how it works both ways. We are glad to have Ian through our journey in issuing this first Sukuk, and hope there will be more opportunity to work with Ian in the near future."
Amir Firdaus, Treasurer, Al Rayan Bank
If you would like to discuss how Boman Scripps could help with your Capital Markets needs, please fill in the contact form below and we will get back to you